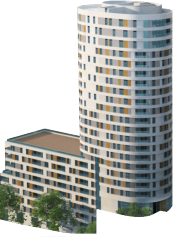 RESIDENTIAL TOWER A
Skyline Belgrade, a unique high-rise residential-commercial complex, will be constructed at the prestigious downtown location of Kneza Miloša Street. Apartments in this unique complex will be a picture of quality and comfort in every detail. All those who aspire to a truly luxurious life in the centre of Belgrade will find it in the numerous amenities of Skyline Belgrade – from 24/7 reception, through the biggest private swimming pool in the city, to a modern, fully equipped Spa&Gym zone.
Apartments
1
SHOPPING ZONE
Shopping has never been easier with the modern retail zone on the ground floor of the complex. On the Skyline plateau, numerous shops ensure everything you need is at arm's length.
4
OFFICE TOWER
Surrounded by two residential towers, the green oasis of the "Three Keys" park and the Skyline plateau, an office tower will be raised in the central part of the complex, which will become a landmark of business life in Belgrade
2
RESIDENTIAL TOWER B
Skyline Belgrade will reward you with the possibility to broaden your horizons and have a truly exclusive experience of living at the heart of the city. Let the view of the river and slowly awakening city take your breath away while you sip your morning coffee. Take a deep breath, because Belgrade is in the palm of your hand.
3
Park
With the aim of rejuvenating the whole neighbourhood, Skyline Belgrade will upgrade the adjacent "Three Keys" Park, forming a broad area to be enjoyed by all citizens of Belgrade. Aesthetically harmonized with the rest of the complex, the "Three Keys" Park will become a modern green oasis of tranquillity, with dedicated micro zones for children, senior citizens and pets.
5
MY DEFINITION OF HOME
Skyline Belgrade, a unique downtown residential-commercial complex, sculpting a new panorama of Belgrade. Rising over the crossroads connecting the new part of Belgrade to the old, nestled between the River Sava, Kneza Miloša Street and the city centre itself - Skyline Belgrade will allow you to escape the hustle and bustle of the city, while residing at a premium downtown location.
NEW SYMBOL OF BELGRADE
"Skyline will represent one of Belgrade's most impressive landmarks" Adir El Al, CEO of Skyline Belgrade. Due to its authentic architecture and contemporary design, the complex will consist of three towers with residential, office and retail space at a prestigious downtown location.
First step to your Skyline home
If you are seeking a unique home at a prestigious downtown location, you have come to the right place! Please fill in the form below, we will contact you as soon as possible.
Contact Us